Greetings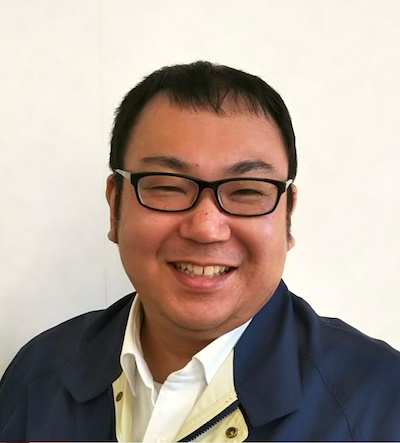 April 2016 marked the 50th anniversary of our company and I would like to express our deep gratitude to all of you.
We entered the market of industrial seafood drying equipment and sold our products throughout Hokkaido, then across Japan and finally overseas.
Since then we have encountered many challenges over time but we have always maintained our goal of manufacturing top products by listening to our customers. We constantly use research, ingenuity and creativity.
After listening to our customers' requests we have developed machinery for squid processing plants, salmon processing plants as well as scallop and other seafood factories. In the last few years we have diversified into other agricultural and livestock equipment.
There have been recent major changes both in the market and the environment that provide great challenges. With the advent of HACCP, there are rapid changes happening in the Japanese food industry including seafood processing. Other changes include fluctuations in the international market, costs, raw materials and distribution. Together these changes are unprecedented and we feel sure we can respond and face such challenges in a changing world. We plan to update our existing product lines and to develop goods as per our customers' needs. We will work hard and prosper together.
We will continue to make advances in the fisheries and food processing industry.
We appreciate all your kind cooperation and we would like to request your ongoing support
CEO  Kohei Maruyama
Company Profile
company name
TAIYO SEISAKUSHO CO.,LTD
location
〒041-1221 226-10, Shimizukawa, Hokuto-shi, Hokkaido
head office
TEL 0138-77-1001(representative) FAX 0138-77-1000

Email home@taiyo-seisakusho.co.jp

Sapporo Sales Office
〒064-0806 5, Minami6-jonishi1, Chuo-ku Sapporo-shi, Hokkaido

TEL:011-563-2911
FAX:011-563-1218

CEO
Kohei Maruyama
Founding
April 1, 1967
Capital
25,000,000 yen
Business contents
Planning, designing, manufacturing and sales of food processing machinery, mainly fishery products
Business item

Fully automatic, cold air, hot air, dryer
High/low temperature smoke drying equipment
Salmon processing machines
Fish cutting machine
Fish and Shellfish processing machines
Sterilization thawing equipment
Steam heating equipment (steamer)
Cutting and gutting machine for squid
Rotary cutter equipment(cutter for Salted Squid Guts)
Raw squid sashimi cutter
Aqua Cooker

employee
55
History
January 03, 1967
Foundation (Phase 1)
April 1, 1967
Establishment (Phase 2)  Capital 2 million yen
August 1, 1974
Capital increase capital 5 million yen
November 25, 1969
Capital increase capital 10 million yen
October 01, 1978
Capital increase capital 15 million yen
October 04, 1982
Merger with Toyo Machinery Co., Ltd. (capital 10 million), Capital 25 million yen
1985
International fishery exhibition (Leningrad, Russia)
1990
International fishery exhibition (Leningrad, Russia)
Sapporo Sales Office opened
1997
Head office and factory relocated to Hokuto-shi Shimizu River (former Ono-machi)
2007
International Food Industry Exhibition (Tokyo, Japan)
2013
Exhibition at Sakhalin Fisheries Industry Exhibition (Yuzhno-Sakhalinsk, Russia)
2014
Tokyo office opened
2018
Tokyo office closed
 location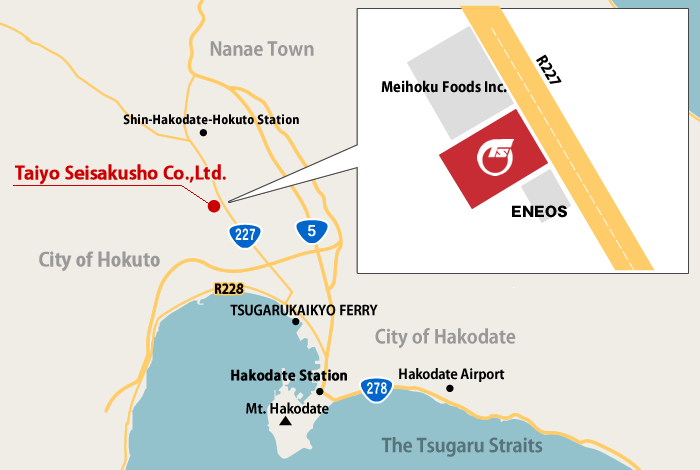 10 minutes by car from Shin Hakodate Hokuto Station
30 minutes by car from Hakodate Station
50 minutes by car from Hakodate Airport
20 minutes by car from ferry terminal